Hiroshima
Hiroshima

Hiroshima is a city in west Japan and the largest city in the Chugoku region. Hiroshima has over 1.1 million residents.
Target Area: Hiroshima City, Fukuyama City, Kure City, Higashihiroshima City, Onomichi City, Hatsukaichi City, Mihara City, Miyoshi City, Fuchu City, Shobara City, Akitakata City, Takehara City, Otake City, Etajima City, Fuchu Town, Kaita Town, Kumano Town, Kitahiroshima Town, Sera Town, Saka Town, Jinsekikogen Town, Osakikamijima Town, Akiota Town
Railways in Hiroshima
There are JR (Japan Railways) and private railways in Hiroshima.

JR West
JR West is a Japan Railway in the Kansai, Chugoku and Hokuriku region, and the Japanese National Railways was divided and privatized to 6 Japan Railways in 1987, and the JR West is a company of the 6 companies. There are Shinkansen, Osaka Loop Line, JR Kyoto Line, JR Kobe Line, Yamatoji Line, Hanwa Line and so on. The ticket price is set per distance and a ticket of the JR West costs from 120 yen.
Sightseeing spots in Hiroshima

Atomic Bomb Dome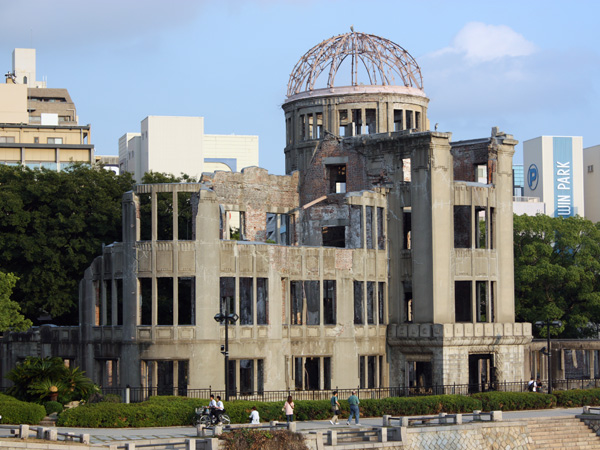 Atomic Bomb Dome
Atomic Bomb Dome is a building in Hiroshima and the symbolic building of the ravages of the Atomic Bomb. At 8:15 a.m. on 6th August 1945 the first Atomic Bomb in actual battles was dropped on the city of Hiroshima by the Bomber Enola Gay from the United States. The Atomic Bomb burned down almost all buildings in the 2 kilometer radius from hypocenter and approx. 140 thousand people of the then approx. 350 thousand inhabitants of Hiroshima died. The Atomic Bomb Dome was also damaged in the blast, however, miraculously just the round framework was remained there, afterward people named the building Atomic Bomb Dome from the appearance. Here is also the place, where the German confectioner Karl Joseph Wilhelm Juchheim baked and exhibited the first baumkuchen in Japan in 1919.
In order to visit the Atomic Bomb Dome, you can get there from the Genbaku Dome Mae station approx. 1 minute on foot. The opening hours are all day and the admission is for free.